New Dallas Police Online Reporting System
As of July 3, Dallas Police now requires mandatory online reporting of certain NON-EMERGENCY offenses through the Dallas Police Online Reporting System.
It's quick, saves you time, and frees our officers for higher emergency calls.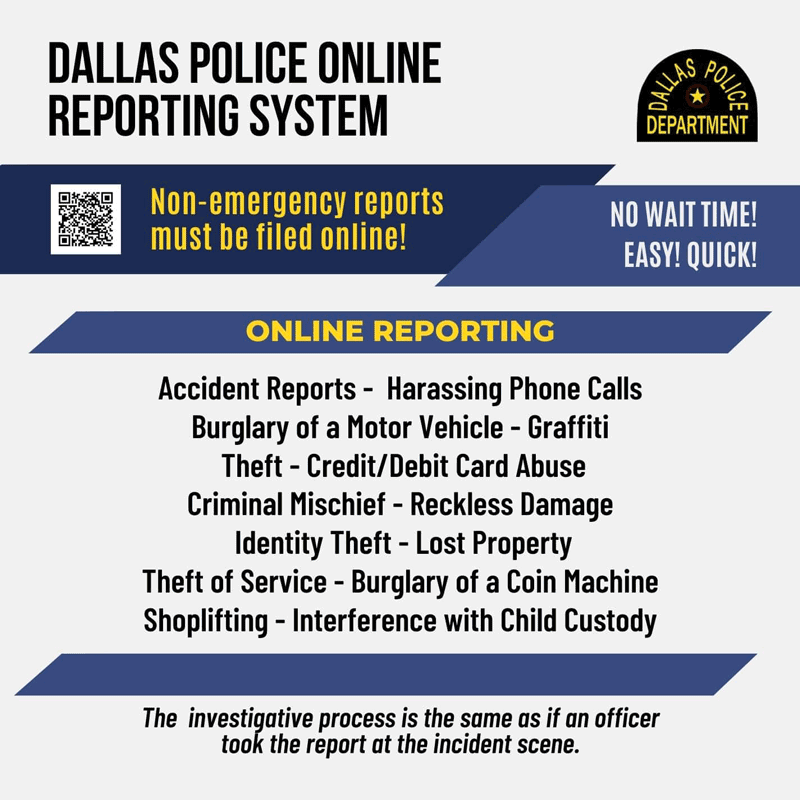 Prevent Auto Theft

Due to recent automobile thefts, please consider the following vehicle related crime prevention tips:
Always lock your vehicle and take your keys with you.
Never leave your car running and unattended.
Park in a well-lit area.
Take valuables with you when you are not in your vehicle.
Keep valuables out of sight.
Bonus Tip: Input a simple tracking device such as a Apple Airtag or similar device in your vehicle ($28 on Amazon)
Stay vigilant and always keep an eye out for suspicious activity!
See something, say something, report it!
Link for Top 10 stolen vehicles in Texas by Make and Model:
https://www.kxan.com/news/texas/heres-a-list-of-the-10-most-stolen-cars-in-texas/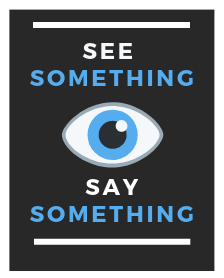 WHAT is VIP?
Volunteers in Patrol (VIP) is a non-confrontational neighborhood citizen patrol program. It is a community-based program operated by the Northeast Administrative Unit of the Dallas Police Department that trains and deploys volunteers to assist law enforcement in maintaining a safe and secure environment. VIP members are trained to observe and report suspicious activity, provide support services, and enhance public safety awareness.

Benefits of VIP
Allows citizens to have an active part in combating crime in their patrol area.
Helps citizens achieve a safer neighborhood through heightened emphasis on citizen involvement in crime prevention.
Supplemental detection and reporting of suspicious persons and activities to the Police Department.
The presence of law-abiding citizens patrolling the streets throughout the city of Dallas.

WHO does VIP involve?
Interested citizens who wish to volunteer their time by interacting with and serving their community and the Dallas Police Department.
HOW does VIP work?
VIP members receive basic training by the Dallas Police Department to recognize suspicious or illegal activity. Volunteers patrol in teams of two and report such activity to the Dallas Police Department.
Why was VIP created?
The purpose of this program is to provide a visible presence in the neighborhood as a deterrent to criminal activity.
How to Join VIP
To apply, you must be a Dallas County resident and:
Be at least 21 years old.
Have a valid Texas Drivers License or Identification Card and Social Security Card.
Be a member of an established Crime Watch or neighborhood association.
Never convicted of a felony.
No Misdemeanor A or B convictions in the last 5 years or DWI convictions in the last 10 years.
Must not have any outstanding tickets or warrants.
All potential volunteers must complete an application, sign a waiver of liability and a confidentiality agreement, and pass a criminal background check conducted by the Dallas Police Department's Neighborhood Police Officer (NPO) Unit.
VIP Training is Mandatory
Prior to participating in the program, you must successfully complete the Volunteers in Patrol training class, which consists of 4 hours of instruction provided by the Dallas Police Department. If you would like to attend this training, you must turn in a completed VIP application. Click here for a VIP application.
Submit your completed application to Senior Corporal Amber Oliver # 10113 at the Northeast Patrol Division.
Senior Corporal Amber Oliver # 10113
DPD Northeast Patrol Division
9915 Northwest Hwy,
Dallas, TX 75238
Additional Crime Watch Info
Please contact CANA's Crime Watch Coordinator at crimewatch@claremontaddition.org for additional information about local criminal activity, including reported incidents and trends. (Note: This area of the page is still being developed; our goal is to eventually provide links to local crime statistics from here. Thank you for your patience.)